Unleash the Archers est un groupe de heavy metal canadien formé à Victoria (capitale provinciale de la Colombie-Britannique). Actuellement signé chez Napalm Records, le groupe fusionne le Heavy traditionnel avec le Power Metal et un soupçon de Death Metal (notamment au niveau des vocaux). Le tout restant très mélodique.
Le groupe est à l'origine formé par la chanteuse Brittney Slayes et le batteur Scott Buchanan en 2007. Les autres membres sont Brayden Dyczkowski et  Mike Selman aux guitares et, Zahk Hedstrom à la basse. En 2008, Unleash The Archers enregistre une démo 4 titres. Deux de ces chansons seront ré enregistrées pour le premier album qui sera publié en 2009. "Behold The Devastation" est le titre de ce premier CD et a été enregistré au studio Omega Mediacore à Richmond.
En mai 2011, le groupe publie son second album "Demons of the AstroWaste". Grant Truesdell remplace Mike Selman à la guitare. En 2012, le groupe publie un EP 3 titres. Après quelques changements de line up. Le groupe signe avec Napalm Records et enregistre son nouvel album. "Time Stands Still" voit le jour durant l'été 2015. Puis le groupe part en tournée à travers le Canada, les USA et même quelques dates au Japon...
Unleash the Archers est alors composé de :
Brittney Slayes - chant
Scott Buchanan - batterie
Grant Truesdell - guitare, chant
Andrew Kingsley - guitare, chant
Kyle Sheppard - basse
On peut écouter les deux premiers albums et le EP à cette adresse:
https://unleashthearchers.bandcamp.com/
Quelques clips :
---------------------------------------------------------------------------
Le groupe va publier un nouvel album "Apex" via Napalm Records, le 2 juin prochain...
Disque enregistré au Danemark avec le producteur Jacob Hansen (Pretty Maids, Volbeat, Doro, Primal Fear, UDO etc...).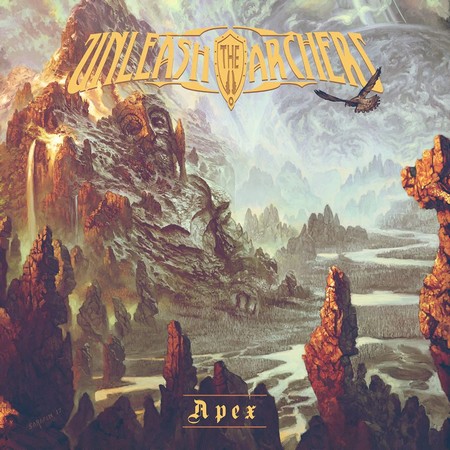 01. Awakening
02. Shadow Guide
03. The Matriarch
04. Cleanse The Bloodlines
05. The Coward's Way
06. False Walls
07. Ten Thousand Against One
08. Earth And Ashes
09. Call Me Immortal
10. Apex
Brittney Slayes – Vocals
Scott Buchanan – Drums
Grant Truesdell – Guitar, Vocals
Andrew Kingsley – Guitar, Vocals
Nikko Whitworth – Bass
Un petit studio report