Montrose est un groupe de Hard Rock Californien qui a mis en vedette
Ronnie Montrose (né le 29 Novembre 1947 à San Francisco, en Californie) à
la lead guitare et le chanteur Sammy Hagar, futur membre de Van Halen.
Les deux autres membres originaux sur le premier LP, intitulé
"Montrose", sont le bassiste Bill Church et le batteur Denny Carmassi.
Le premier line-up a duré suffisament longtemps pour ne faire que cet
unique album.
Avant de former son groupe, Ronnie Montrose a eu beaucoup de succès
comme musicien de session (jouant par exemple avecBill Church sur
"Tupelo Honey" de 1971 de Van Morrison, produit par Ted Templeman, et
sur des albums de Beaver & Krause et Herbie Hancock). Il a également
été membre de Edgar Winter Group, en jouant sur des simples comme "Free
Ride", qui était tiré de l'un des albums les plus vendus "They Only
Come Out at Night" (1972).
Ronnie Montrose ne s'est jamais considéré lui-même comme un homme
d'affaires. A partir du moment où il a commencé à jouer de la guitare à
l'âge de 17 ans, il a toujours mis sa musique en avant et son entreprise
se trouvait donc quelque part derrière.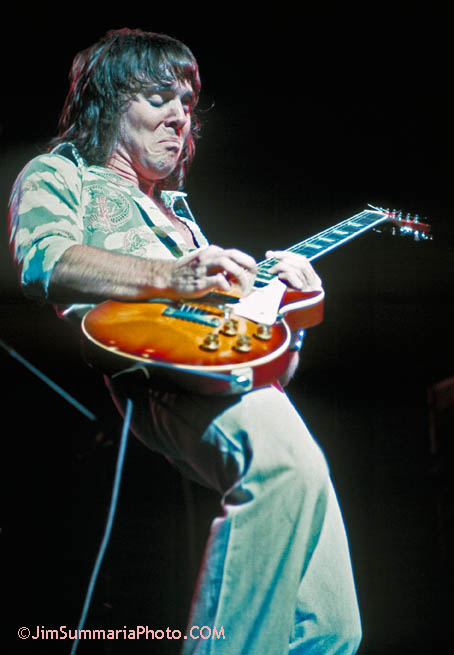 Sa famille a déménagé à Denver, au Colorado, lorsque Ronnie avait
tout juste deux ans. Bien que son père joua de la batterie de Jazz au
collège, Ronnie Montrose, n'a pas joué véritablement avant qu'il soit
âgé de 17 ans.
Dès le premier moment où il a tenu une guitare dans ses mains, son
destin était scellé. Il est tombé en amoureux de la sensation et du son
de cet instrument. Il a appris tout seul à jouer sur une guitare qu'il
avait emprunté à un ami. Puis, quand il s'est senti prêt, il a rejoint
son premier groupeappelé the Grim Reapers. Dans ses premières années
d'apprentissage, Montrose a été influencé par beaucoup d'autres
guitaristes, comme Eric Clapton, Johnny Smith, Jeff Beck, Jimmy Page, et
Jimmy Hendrix. Encouragé par le "San Francisco sound" qui gagne en
popularité dans tout le pays, Montrose décidr de retourner à la ville de
sa naissance en 1968. Il fait des petits boulots comme réparateur et
des travaux de menuiserie pendant la journée et joue de la guitare
pendant la nuit.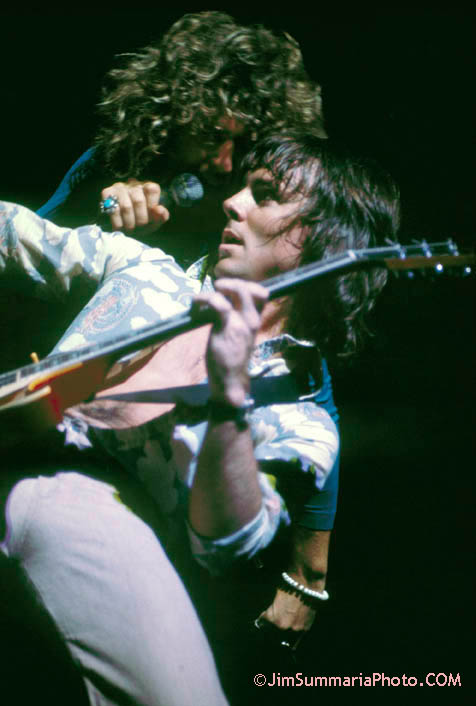 En 1970, Montrose a rejoint un groupe de San Francisco appelé Sawbuck.
Dans une agence pour l'emploi, il a rencontré le promoteur Bill
Graham, qui lui a présenté son partenaire, le producteur David Rubinson.
Graham et Rubinson possèdaient un petit label appelé Fillmore Records,
qui a alors signé un contrat d'enregistrement avec Sawbuck. Rubinson a
été particulièrement impressionné par le talent et l'ambition de
Montrose. Il a mis en place pour le guitariste un travail de session
avec les Pointer Sisters et le claviériste Herbie Hancock, avant que
Montrose ne fasse une grande pause.
En 1971, Van Morrison avait déménagé à San Francisco. Rubinson
entendu qu'il cherche à mettre sur pied un nouveau groupe et organise
alors une audition pour Montrose. Il décroche évidemment le poste et
joue le plus souvent de la guitare acoustique sur les deux albums de Van
Morrison, "Tupelo Honey" et "St. Dominic's Preview".
Lorsque Van Morrison passe à un autre groupe, après le deuxième
disque, Montrose fait une tournée de trois mois en tant que guitariste
pour Boz Scaggs.
La carrière de Montrose prend un virage majeur en 1972 quand il
rejoint le Edgar Winter Group. Il joue sur l'album "They Only Come Out
at Night", sorti sur Epic Records, et fait la tournée qui le suit. Le
travail de Montrose pour Edgar Winter lui a donné la liberté de
s'exprimer à la fois musicalement et sur scène. Grâce à cela, Montrose a
acquis une certaine notoriété en devenant un guitariste de rock
sauvage.
Au cours de l'Eté 1973, il décide qu'il est temps pour lui de penser
à sa propre carrière comme un chef d'orchestre et de laisser Edgar
Winter. Il recrute alors un jeune chanteur inconnu nommé Sammy Hagar,
avec Denny Carmassi à la batterie et Bill Church à la basse. Le quatuor
devient tout simplement le groupe Montrose et signe un contrat
d'enregistrement avec Warner Bros et joue une musique un peu dans la
même veine que le Van Halen d'origine.
Avant la fin de l'année, le groupe sort "Montrose", produit par Ted
Templeman, qui deviendra le disque de Montrose le plus vendu. L'album
inclut des morceaux de longue durée, tels que "Rock Candy" et "Bad Motor
Scooter", qui recevront encore sporadiquement des passages sur les
stations de radio même des décennies plus tard.
Le premier membre à partir est Bill Church qui est alors remplacé
par Alan Fitzgerald pour le deuxième et dernier album avec Hagar au
chant, "Paper Money" sorti en 1974 qui augmente la popularité du groupe
toujours et encore.
Quelques mois après cette deuxième sortie, Ronnie Montrose vire le chanteur Sammy Hagar, estimant qu'il était "trop limité".
Après son départ, Hagar a publié une succession d'albums solo dans
le milieu à la fin des années 70 et au début des années 80 (souvent avec
d'autres membres de Montrose d'ailleurs) ainsi qu'un unique album avec
le groupe HSAS (Hagar Schon Aaronson Shrieve). Il se joint à Van Halen
au milieu des années 1980 et celà, pendant onze ans.
Le chanteur Bob James remplace Hagar et Montrose publie coup sur
coup deux autres albums "Warner Bros Presents Montrose" rn 1975 et "Jump
On It" en 1976. Le groupe ajoute également le claviériste Jim Alcivar
au line-up. Toutefois, les deux derniers albums n'obtiennent pas la
réussite des deux premiers. "Warner Bros Presents Montrose" est
considéré par certains comme 'noir et sans âme'. Pour un groupe qui nous
avait donné tant de promesses, c'est vraiment une triste situation.
Sur "Jump On It", Fitzgerald est remplacé par Randy Jo Hobbs à la basse.
Montrose ne reçois pas la reconnaissance mérité pour son groupe
pionnier mais reste malgré tout une influence majeure pour beaucoup de
groupes de hard-Rock et de Metal.
Une rare bribe de cette influence et de son importance est visible
dans le film "A Star Is Born" avec Barbara Streisand, où l'on voit et
entend Montrose jouer un de ses plus grands titres, "Rock Candy", au
moment où Streisand arrive sur scène…
Ronnie Montrose Montrose dissout ce groupe en 1976 et commence à expérimenter sa propre musique.
En 1978, il emmerge avec son premier album solo, "Open Fire",
produit par Edgar Winter. L'album comprend un remaniement de lz chanson
de Gene Pitney "Town Without Pity", qui allait plus tard changer la
direction du guitariste encore une fois. Il va de soi que cet album
entièrement instrumental déçoit, voire irrite, les fans de metal
hardcore de Montrose.
Le guitariste forme plus tard un autre groupe dans le moule hard
rock, au début des années 1980, nommé Gamma, où figure également Denny
Carmassi, de l'original de Montrose et à la fin du groupe de Sammy
Hagar, Jim Alcivar de Montrose, et un chanteur Ecossais nommé Davey
Pattison.
Dans sa première incarnation, Gamma a publié plusieurs albums sur
Elektra records ("Gamma 1", "gamma 2" et "Gamma 3") avant de se séparer.
En 1987, Ronnie Montrose ressuscite le groupe avec le chanteur
Johnny Edwards, le bassiste Glenn Letsch, et le batteur James Kottak. Ce
nouveau groupe ne publie qu'un seul album sur Enigma Records appelé
"Mean".
By 1988, Ronnie Montrose retourne définirivement à sa carrière solo avec l'album "The Speed of Sound".
Le premier line-up Montrose se réunit en 1997 sur l'album "Marching
to Mars" de Sammy Hagar jouant sur "Leaving the Warmth of the Womb" et
sur scène, en rappel sur quelques concerts de Sammy en 2003 et 2005.
Après le split de tous ces différents groupes, notamment le Gamma (80).
Ronnie s'est mis à la production entre 80 et 90 en produisant des
albums pour Elvis Costello, Los Lobos, Suzanne Vega, Paul Mc Cartney,
Bonnie Raitt et beaucoup d'autres…
Le 8 Novembre 1997, Michele Graybeal devient Mme Ronnie Montrose. Il décède le 3 mars 2012.
Discographie:
Montrose (1973)
Paper Money (1974)
Warner Brothers Presents.. Montrose! (1975)
Jump On It (1976)
Mean (1987)
source
: wikipedia, EdOo, Phill Niblock